SHOWOFF Canopy Featured Artist: Denise Bunkert
Free Shipping on All Packages (and orders above $1,300). 1-2 Week Turnaround!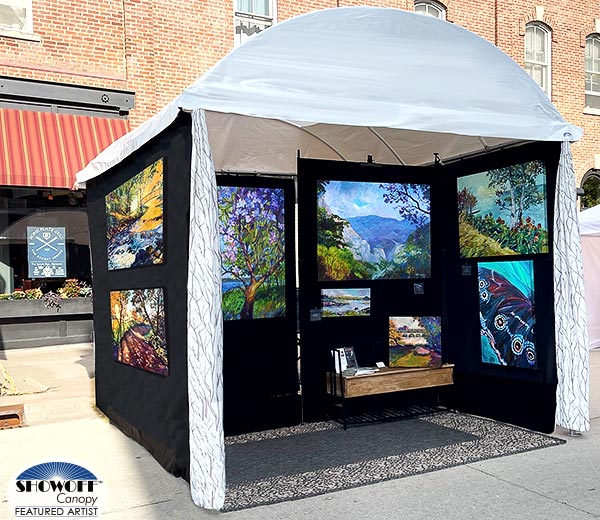 Tell us about your art!
"Brilliant landscape paintings might draw you to my art booth for a closer look. Even at a distance, radiant colors and textures appear in my landscape oil paintings. Upon closer examination and under the natural sky light, you will see light and texture imitating nature and inspired by places I have visited. After seeing Gaudi's mosaics and stained-glass windows in Spain, I developed a new style of painting I call "Crystal Impressionism". Pallet knife and brushes are used to create thick brush strokes like the impressionists. Each painting captures the essence of a place using this crystalized painting method."
What do you like best about your SHOWOFF Canopy?
"My Showoff Canopy is a traveling gallery for my paintings that is easy to set up and shows my work in its best light. The skylight truly does allow natural filtered light to illuminate my booth and make my artwork shine. I won Best in Show at the Red Wing Fall Art Festival and other awards during 2022 showing my work in the Showoff booth setup that you see above!"
You can see more of Denise's art on her website and you can also follow her on Instagram.