SHOWOFF Canopy Featured Artist: Deborah Younglao
Free Shipping on All Packages (and orders above $1,300). 1-2 Week Turnaround!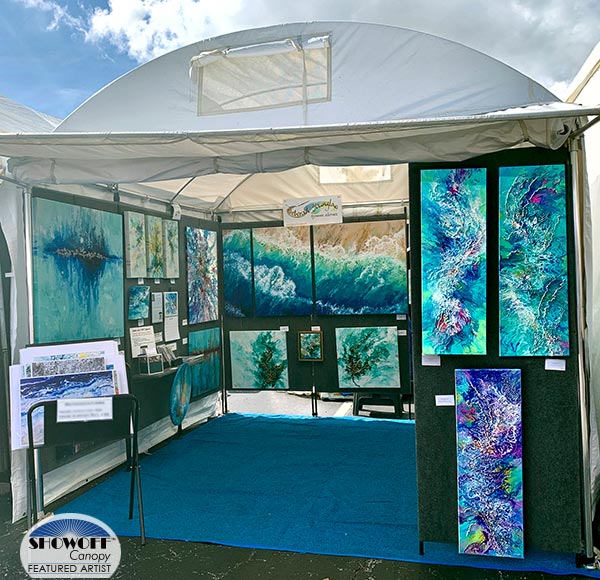 Tell us about your art!
"I love that creating with fluid paints is such an interactive process - it's a dance between artist and paint, as I spread colors across my canvas. We often change who's in the lead! I'm excited by the developing spontaneous organic textures and shapes that take on a life of their own. Palette knives, fingers and air blown onto the wet paint help me nudge the painting in the direction I want it to go, but I have to be open to letting the painting speak for itself. I sometimes have no definite plan in mind for the outcome of the painting, but the vibrant colors of my native Caribbean Sea, and of the wild lushness of tropical vegetation, always float before me as I paint."

What do you like best about your SHOWOFF Canopy?
"I travel far and wide for several shows a year, and the one thing I don't have to worry about is my Showoff Canopy. Here's why:
My Showoff is about 17 years old and still going strong!
While other canopies are swaying alarmingly in wind, my Showoff is barely moving.
I love that I can have multiple awnings up, and they're truly waterproof. In light to moderate rain, when I have paintings hung on the outside, an awning is usually enough to keep them dry without lowering the sidewall. Plus the front awning lets me keep my booth open.
I love the skylight for extra light, and the vents do make a difference on a hot day."
You can see more of Deborah's art on her website and follow her on Facebook and Instagram: @deborahyounglaoart