Light-Dome versus SHOWOFF Canopy
Free Shipping on All Packages (and orders above $1,300). 1-2 Week Turnaround!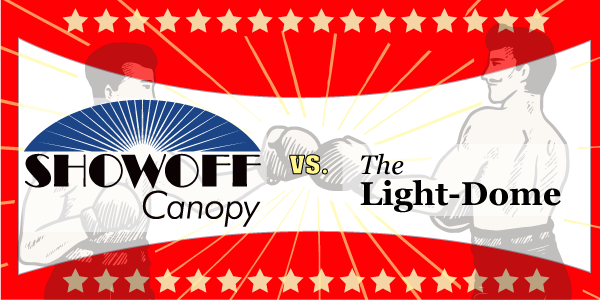 You've gotten your feet wet with an E-Z Up, and now you've whetted your appetite for a more substantial canopy, one that will last for years.
You've gotten your feet wet with an E-Z Up, and now you've whetted your appetite for a more substantial canopy, one that will last for years. Last month, we told you why we thought our SHOWOFF canopy was the better art fair tent when compared with the TrimLine canopy. This month, we are going to do a side-by-side comparison with another popular competitor, the Light-Dome canopy.
Design, Standard Features, and Accessories
The Light-Dome and SHOWOFF are dome-topped canopies. This gives them an airy, open, and spacious feel compared to other art tents with conical tops. The standard Light-Dome does not offer a heat-wind vent on its front gable, but the Finale, the premium Light-Dome canopy, does. Here at SHOWOFF, we recognize each artist prefers an art canopy tailored to his or her preferences, so we leave these air vents as options.
These two art display tents measure the standard 10 feet in width and 10 feet in length and come standard with center zippers on their front and back walls. The Light-Dome's and SHOWOFF's walls measure 7 1/2 feet and 7 feet, respectively. The SHOWOFF canopy reaches nine feet at its center; the Light-Dome, a little farther up, measuring 9 1/2 feet for the standard Light-Dome and 10 feet for the Finale. The SHOWOFF is the only one of these two to offer optional eight- or nine-foot sides, however.
Accessories is another area where the SHOWOFF really shines. We can name two major options missing from the Light-Dome.
The Light-Dome does not offer a skylight. The SHOWOFF offers an optional skylight that runs the length of the canopy. This helps illuminate your art work in a soft white hue. The Light Dome says its top is translucent enough that it does not require a skylight.
The Light-Dome does not offer adjustable rafters. Our adjustable rafters divert rainwater to the sides and away from the entrance, a major benefit for showgoers when it rains and a great reason for many to huddle in your tent and browse the merchandise during inclement weather.
Awnings, gutters, stabilizer bars, and flexible hook-and-loop display panels are some of the other options offered on the SHOWOFF that are not offered by Light-Dome. We even offer accessories for the Light-Dome canopy that Light-Dome itself doesn't offer.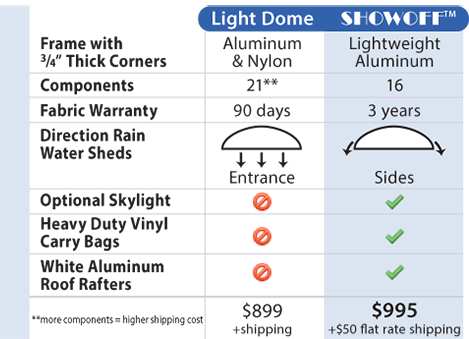 Setup
Light-Dome has followed in SHOWOFF's footsteps in the use of aluminum in its frame's construction. Aluminum is lighter than steel and naturally corrosion-resistant. (i.e., It won't rust.) The SHOWOFF still comprises fewer components, 16 major pieces compared to the Light-Dome's 21. Both are light in weight (31 pounds for the Light-Dome, 35 for the SHOWOFF, 37 for the Finale) thanks to their use of aluminum and can be set up by a single person.
The SHOWOFF tops are assembled on the ground and then raised up. This is different from the Light-Dome, which requires the user to stretch up to put the canopy vinyl overhead. In the end, you may not like the Light-Dome if you are short, but you may not like the SHOWOFF if you have trouble bending down or kneeling.
Durability
The Finale and SHOWOFF stand out among cheaper competitors at big-box retailers for their overall durability. A few weeks ago, we told you how a SHOWOFF survived a tropical storm, and we think it is testament to the durability of the SHOWOFF.
Warranty
We, here, at SHOWOFF stand behind our canopy's quality and durability, backing up the aluminum frame with an outstanding 10-year warranty. Compare that to the Light-Dome, which is only backed for 180 days.
Price
One-hundred and forty-six dollars is all the stands between the base Light-Dome price and the SHOWOFF on the surface, but the slightly more expensive SHOWOFF also includes free shipping, making the two even closer in price.
Web-Based Purchases
It is fairly simple to order from us. You can call, if you like, or you can order everything from the tent to the accessories online, any time of day. The Light-Dome requires a phone call during its business hours in order to make a purchase.
Conclusion
With the SHOWOFF you get a lightweight yet durable all-aluminum frame that comprises fewer components, comes with 10 years of warranty assurance, and offers a ton more options and accessories. Add all this together, and we firmly believe this makes the SHOWOFF a far better choice than the Light-Dome in the art display and tent marketplace.
Already got a SHOWOFF canopy? Refer a friend to get one of his or her own, and we'll give you cash. The more friends who purchase a SHOWOFF canopy from your referral, the more money we will pay you!