Announcing the Winner for The Showoff Giveaway Contest
Free Shipping on All Packages (and orders above $1,300). 1-2 Week Turnaround!
Alison LaMons explains why she wanted to trade her EZ-Up Tent for The SHOWOFF™ Canopy.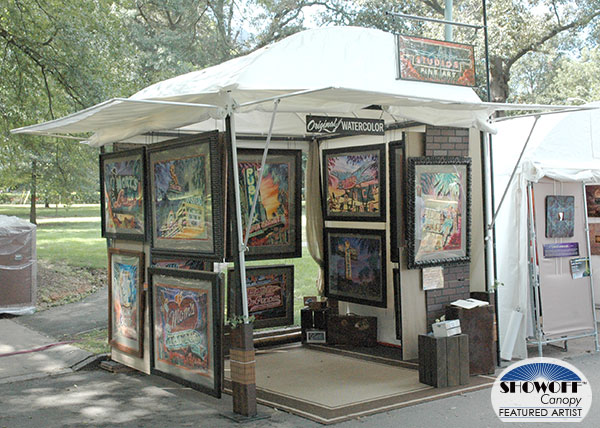 "My work is large and the pieces could not be hung where, or how I planned in the EZ-Up Tent because the internal ribbing was in the way, both visually and structurally. So it didn't show my work very well. This was a great disadvantage as well as disappointment."

"I had to invest in a lot of metal to reinforce the EZ-Up Tent to hold the size and weight of my paintings as well as to anchor the tent down against wind. The reinforcing made my work less secure because then the zippered walls could not close entirely around the new legs we had to fabricate. Worse than that, a storm came in one night and damaged some of my art work and expensive picture frames because the EZ-Up Tent held the water in a huge pool of water on the roof! The tent style roof of the EZ-Up collected the rainwater rather than shed it off as it would have with an arched roof design like The SHOWOFF™ Canopy has."

"This was a bitter lesson learned. The hard work and pride I put in my very first art show was diminished greatly because I chose to use an EZ-Up Tent."

You can read more about Alison and see more of her art at alisonstudios.com.