SHOWOFF Canopy Featured Artist: Erin Hanson
Free Shipping on All Packages (and orders above $1,300). 1-2 Week Turnaround!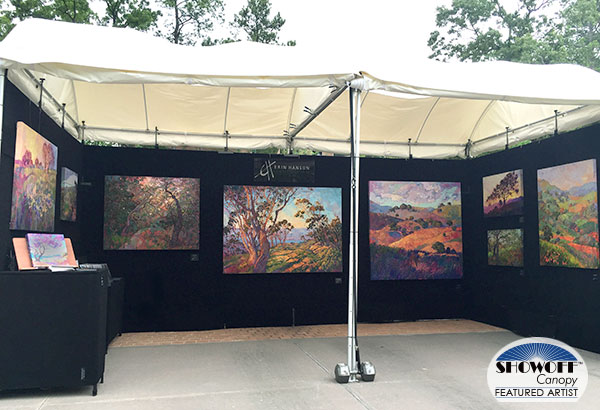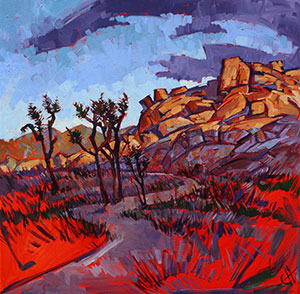 You may remember Erin Hanson. A couple of weeks ago, we highlighted her personal, harrowing tale of surviving a tropical storm at an art show, but such instances may seem like a walk in the park for the adventure- and nature-loving Hanson. She grew up in the great outdoors with what she calls a "boy scout" family, drawing and painting the natural world around her on their many family outings. It's no wonder her first aspirations for professional artistry began during a rock-climbing venture in California's Mojave Desert. Erin Hanson's fondness of the wild Earth, open skies, and the way the sun's rays peek through the rock formations shine through her palette of autumnal and summer tones. She works with oil paints and in a style she calls "open impressionism," which uses vibrant colors, fat brush strokes, and thick remnants of paint to give the piece movement and texture.
She still often paints the desert landscape, red sandstone, and large rock structures from which her career began, climbing vistas and plateaus to capture that perfect viewpoint.
"Some might consider the desert to be drab and colorless, with white granite rocks and scraggly trees, said Hanson. "But I love to capture the moments when early morning light peeks through and lights everything up with sherbets, lavenders, and ice cream colors."
Lately, her works have grown greener, capturing myriad hilly terrains filled with trees and other foliage. Keeping her research personal, she first captures these views with her eyes and emotions and then a camera; it is only later that she depict the scene's beauty, energy, and spirit with a paint brush. Despite living in Los Angeles, she lists locales across the western U.S. as the sources of her inspiration. Road trips to Utah, Arizona, Nevada, and Northern California are frequent and can last for weeks at a time and result in thousands of photographs.
It is all a part of the planning stage for Hanson, whose spends a lot of time determining the symmetry of the canvas and how the piece will be composed. She even goes as far as to premix the colors before getting her brushes wet. Her pre-painting process as well as her degree in bio-engineering are good indicators of the analytical, logical judgment she brings to the art of creation.
From the toehold of a precipice to the eye of a tropical storm, Hanson is one artist whose job is far from banal, but it's these conditions that have led her to some amazing pieces as well as a few ominous works, such as Brooding Storm II. Of course, it also led her to one of our SHOWOFF canopies.
To view more of Erin's portfolio, visit her website, Erin Hanson: Landscapes in Oil.